History of Bhutan
Bhutan is a landlocked nation in South Asia located in the Eastern Himalayas between India in the South and China in the North. Kingdom of Bhutan is the only nation that measures its economic growth by Gross National Happiness rather than Gross Domestic Product. Therefore, Bhutan can be best termed as "The Happiest Country". Bhutan had remained a sovereign nation throughout the history and was never colonised under any foreign power due to its rich cultural heritage, far sighted leaders and its landscape.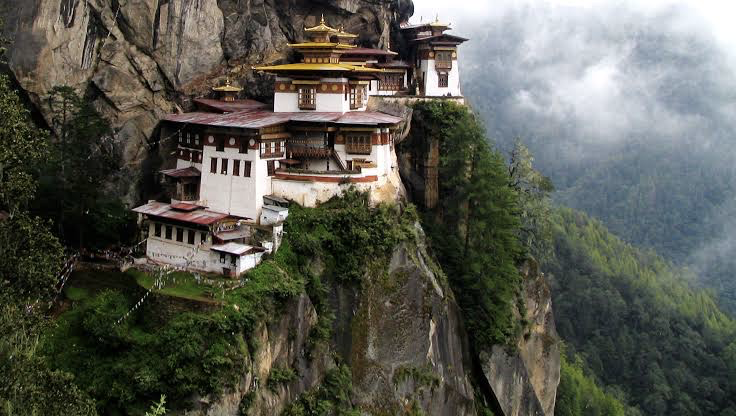 Thimphu is the capital of Bhutan located 54 km (1-hour Drive) away from the only International Airport in Paro that connects Bhutan to outside world through air. Dzongkha is the national language of Bhutan and people of Bhutan follows Buddhism as the main sect of religion apart from Hinduism. Bhutan has a constitutional democratic monarchy form of government established in the year 2008 upon the transition of the government. However, Bhutan's Monarchy dates back to 1907 when Sir Ugyen Wangchuk of Wangchuk Dynasty ascended the golden throne as the First King of Bhutan. Today, Bhutan witnesses the 3 generation of Monarchs – the Great Fourth, His Majesty the Fifth King and His Royal Highness the Gyalsey – making the fortunate Bhutanese embrace hope for a continued peace.
Bhutan as of 2019 has a population of 763092 and an area of 38,394 km2. Ngultrum is the currency of Bhutan whose value is fixed to that of Indian Rupees. Main source of Bhutan's income comprises of Hydro power, agriculture and tourism. Today, Bhutan aimed to become a high value low impact tourism destination due to its rich cultural heritage that was preserved and passed down to the present generation by our fore fathers. The beautiful and unclimbed snow clapped mountains, swift flowing rivers, smiling and friendly people, rich bio diversity, impressive festivals and architecture with cultural heritages and a carbon neutral/ carbon negative environment attract more and more numbers of tourist every year to Bhutan. Therefore, Lonely Planet named Bhutan as the "Best Tourist Destination for 2020".